Panabo City is a 4th class City Located in the Province of Davao del Norte
---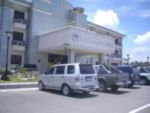 is a new and developing city near Davao City. It is located in the Province of Davao del Norte. It has an area of approximately 249 kilometers with a population of about 133,500 people. The city is widely known for its vast banana plantation. The Pan-Pacific highway passes through Panabo city. It is approximately a 1 hour drive from Davao City .
It is a popular stop when travelling to the north, like
Tagum City
and other northern regional municipalities, either to rest, shop for fruits, or eat, as there are groceries, bowling alley, public market, and good restaurants along the Pan-Pacific highway passing through it.
To learn more about Panabo city, please click here.

Have A Great Story/Pictures About This City?
Do you have a great story or pictures about this city, new places to go to, festival, a great place to eat, tourist spots? Can you share it?